Vehicle Test Cell with Chassis Dynamometer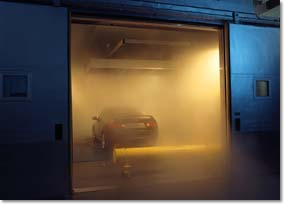 Applications include passenger vehicles, light and medium duty trucks of all fuel types- Gas, diesel, electric, hybrid, propane, natural gas, etc.
Inside Dimensions are 44' 0" Length, 14' 8" Width, 11' 0" Height; Vehicle Door opening 10' 0" Width by 10' 0" Height
Temperature Range -50° F to 170°F
Large mechanical cooling system with liquid nitrogen boost creates over 1.2 million BTU's (470 HP, 350 KW) per hour cooling capacity over entire temperature range.
Over 200,000 BTU (60 KW) per hour supplemental heat.
Full Solar Simulation with 1400 watts/sq. meter full spectrum light; 1000 watts/sq. meter infrared lighting.
Wind simulation with 60" diameter fan.
Steam generated humidity system. 5-95% RH control at 90° F
AWD Chassis Dynamometer Click Here for complete specifications (pdf link)
Engine Thermal Test Cell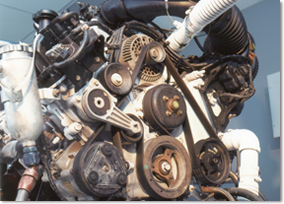 Our engine sized thermal test cell was designed specifically for testing all types of engines on stands and dynamometer carts. The test cell is also a perfect size for small vehicles. RV's, lawn equipment, larger components or racks of products being tested.
Inside dimensions are 19' 4" Length by 13" 5" Width by 7"9" Height
Door opening 8'0" Wide by 7'3" Height.
Operating Temperature -50°F to 170°F.
Large cooling capacity of 310,000 BTU's (100 HP, 74.6 KW) per hour.
100,000 BTU's (32 KW) per hour supplemental heat.
RapidChill TM liquid chiller system with 500 gallon tank of glycol/water mix. Variable speed flow control into cell. Used for engine and dynamometer cooling during test.
Two (2) SuperFlow SF-902 water brake dynamometers with X control consoles.
Component Test Cell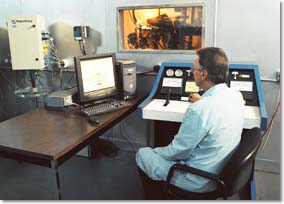 Used for electronic, electrical and mechanical small component testing
Inside dimensions are 3'0" Width by 3'0" Height by 3'0" Depth (27 Cubic Feet)
-150°F to 650°F Temperature range.